Share this Collection
2 Citations in this Annotation:
Annotated by:
Helen Thomas on Beverly Buchanan (Marsh Ruins)
12 March, 2023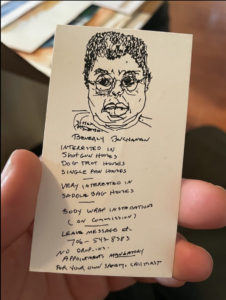 I have just finished reading Amelia Groom's book Beverly Buchanan, Marsh Ruins and feel compelled to write about it. Aside from Groom's clear prose that presents this specific work of Buchanan – Marsh Ruins, 1981 (at the Marshes of Glynn, Brunswick, GA) in an unusually easy to understand and relate to piece of writing about art, it is Buchanan herself through her work that impresses and amazes. She was so strong and persistent in making her work, able to continuously produce and reproduce, through ill health and maintaining a thread of humour, without floating on a raft of (financial and critical) success. In the end, fashion's gaze falls upon her as her work seems to become more 'relevant' while those in ascendence then descend (a little, if temporarily). Groom makes it quite clear who she means through quoting and reflecting upon a work by Sondra Perry, Imakelandartnow.com, 2015.
I could write much more about Buchanan and my admiration for her, but Groom's book is already a great source. Similarly, Marsh Ruins (and all Buchanan's work) has many layers of meaning, association and possibility. These include a rereading of the landscape and material mobilisation of colonialism, slavery, and cultural validity that resonate in the work. Groom tells the fascinating story of shell encrusted 'tabby' concrete (which Buchanan used for the sculpture, in reference to the antebellum tabby ruins of the region), for example, that reveals a terrible narrative of erasure and exploitation.
Here, instead, it would be enough to say that what I learn of Buchanan through Groom resonates with some of the underlying intentions, mostly not articulated, of Women Writing Architecture. For instance, the three stone-like objects with cast plaque make no claims for exclusivity. They are not in secret locations, 'demandingly remote,' as Groom puts it, like some Land Art counterparts, but 'hide in plain sight, just off a major highway.' Nevertheless, they are not easy to find, for two reasons (at least): the works are hidden in the long grass so they are not easy to find (they are easy to overlook), and they are ephemeral, in that they represent fragments of ruins that become increasingly ruined.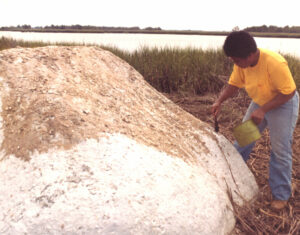 The second book attached to this annotation is the catalogue of an exhibition of Buchanan's work, Shackworks: a 16 year survey, April 10 – May 22, 1994 at the Montclair Art Museum, New Jersey (for shack images see here). Buchanan's shacks explicitly connect her work to architecture, even if just as a way of understanding that structures, forms and materials which seem to be (innocently) vernacular are still elements complicit in systems of exploitation and power imbalances.