Share this Collection
3 Citations in this Annotation:
Annotated by:
Soo Jin Kim on Jeju Haenyeo Collective
19 August, 2023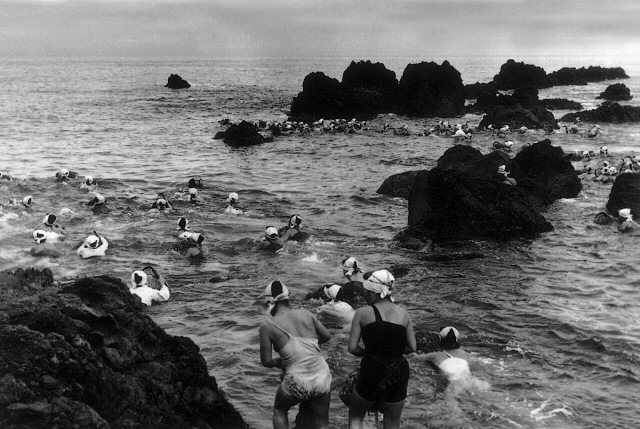 A Short Introduction to the Haenyeo Collective: A Dive into Eco-Feminism
Haenyeo 해녀, is a group of remarkable women divers who fearlessly explore the ocean's depths without any equipment, relying solely on their expertise to gather seafood for their livelihoods. While diving has historically been associated with male-dominated traditions across cultures, the Haenyeo communities on Jeju Island present a distinctive exception, exclusively composed of female divers. This tradition holds significance not only within anthropological contexts but also in terms of ecology and feminism. In this concise introduction, I delve into the narrative of the Haenyeo collective as a democratic local and production community of women that embraces the principles of eco-feminism.
At the heart of the Haenyeo tradition lies its collective nature, wherein individual divers harmoniously merge into a unified whole. Rooted in the values of sisterhood, these local communities also function as female production groups characterized by democratic decision making and a horizontal hierarchy. As a cohesive collective, they not only share their ecological wisdom about the ocean and personal production skills but also foster a mutual sense of care derived from their sisterly bonds.
Although, for safety reasons, a group of skilled female divers often takes the lead during oceanic harvests, decisions are made through democratic processes. Their distinct form of communication, known as 'Bulteok (hearth) democracy 불턱 민주주의', involves gathering around a hearth – a space where they change into swimsuits and rest during their production activities. Every member holds an equal right to vote, reinforcing their commitment to democratic principles.
Beyond their egalitarian decision-making approach, the tradition of "Geseok 게석" is particularly noteworthy—a practice rooted in equitable distribution. In cases of production imbalances among skilled divers and others, they redistribute harvested seafood, extending this practice even to those who couldn't participate due to illness. This tradition epitomizes their dedication to equitable sharing.
Furthermore, the Haenyeo communities' approach extends to ecological sustainability. In their quest to keep the local ocean ecosystem as a shared resource or commons, they have developed autonomous rules and regulations. These include 'Geumchae 금채 (the ban on harvesting),' strictly regulating harvesting periods based on ecosystem conditions, and 'Gaetdakgi 갯닦기 (cleaning the rocks),' a practice of regularly clearing ocean rocks to promote seaweed growth. These regulations have allowed them to engage in lifelong production and, at the same time, maintain the richness of the local ocean ecosystem. Instead of pursuing short-term gains, they have chosen to coexist harmoniously with nature.
The captivating embodiment of women's empowerment, ecological responsibility, and democratic values within the Haenyeo community, intricately woven through the lens of eco-feminism, has fully captured my attention. As we explore their collective and ecological ideals above, it becomes evident that they serve as a remarkable example for future communities to emulate.